Texas Independence Highway Dedication
Juan Seguin Boulevard Dedication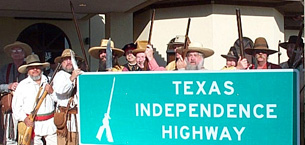 It would not be a History Celebration without
the Texas Army offering a blackpowder salute.

Master of Ceremony Mayor Riddle of Deer Park (gray coat)
with area officials dedicate the Texas Independence Highway
(SH 225 from Loop 610 to SH 134).

Members of the Tejano Association and the Juan Seguin family
lead to public and Texas Army in dedication State Park Road 1837
as the new Juan Seguin Boulevard at the San Jacinto Battlegrounds.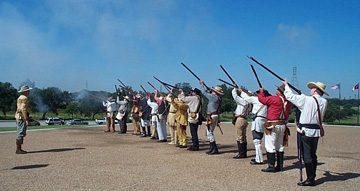 With a final salute to Juan Seguin and the Tejanos in the
Texas Revolution, the Texas Army closes the dedication ceremony.
---
Return to the Texas Army home page.
11.30.01