Camp above Mill Creek
Camp Eleven of the San Jacinto Campaign
March 29, 1836
March 29: Camp above Mill Creek. The crossing of Mill Creek was difficult and only a few miles were travelled.
no marker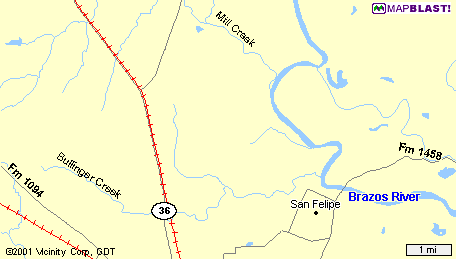 Marker information courtesy Texas Historical Commission's Atlas
and map courtesy Mapblast. Visit Mapblast for driving direction to these site.
Colonel Alexander Horton's fact-based fictional dispatch from this camp gives the flavor of the place and time.
---
Forward to next camp site, back to the previous camp site, go to the complete campsite listings or return to the route map.
8.30.01