Capture Site of General Santa Anna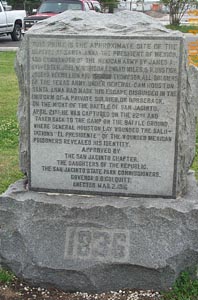 Historical marker at the approximate site of Santa Anna's capture on April 22, 1836 after the Battle at San Jacinto which gave Texas its independence from Mexico. The marker is located next to the Pasadena Paper Mill front gate, facing the Houston Ship Channel. Enter from the traffic circle on the south side of the Washburn Tunnel. Take the Pasadena Paper Mill entrance road on the right side of the Tunnel. The marker is on the right after the road turns to the left towards the entrance gate of the Mill.
"This point is the approximate site of the capture of Santa Anna - the President of Mexico, and commander of the Mexican army - by James A. Sylvester, Joel W. Robinson, Edward Miles, S. R. Bostich, Joseph Vermillion and ___ Thompson, all soldiers of the Texas army under General Sam Houston. Santa Anna had made his escape disguised in the uniform of a private soldier, on horseback, on the night of the battle of San Jacinto, April 21st. He was captured on the 22nd and taken back to the camp on the battle ground, where General Houston lay wounded. The salutations "El Presidente" of the wounded Mexican prisoners revealed his identity." Approved by the San Jacinto Chapter, the Daughters of the Republic, the San jacinto State Park Commisioners, and Governor O. B. Colquitt. Erected March 2, 1916.

Return to Historical Marker page
5.01.02