Camp opposite Harrisburg
Camp Nineteen of the San Jacinto Campaign
April 18, 1836
April 18: Camp opposite Harriburg. Arrived opposite Harrisburg about noon. Deaf Smith and Wax Karnes crossed and captured a Mexican courier (marker) confirming the location and troop strength of Mexican General Santa Anna. Set up camp opposite Harrisburg, about 800 yards down river. Historical marker locates the town of Harrisburg on Buffalo Bayou.
Texan Capture of Mexican Dispatchers
| | |
| --- | --- |
| Marker Title: | Texan Capture of Mexican Dispatches (San Jacinto) |
| Address: | Bellaire Blvd. at Second St. |
| City: | Bellaire |
| County: | Harris |
| Year Marker Erected: | 1989 |
| Designations: | na |
| Marker Location: | |
| Marker Text: | The San Jacinto campaign in southwest Harris County. After the fall of the Alamo on March 6, 1836, Gen. Sam Houston led the Texan army in retreat from Gonzales. The Mexican army under Gen. Santa Anna followed eastward from San Antonio. On April 14, while Houston's army was north of him, Santa Anna led a division of his army from the Brazos River near present Richmond to Harrisburg. He crossed present southwest Harris County, then an uninhabited prairie, and reached Harrisburg (12 miles east of this site) on April 15. The Mexicans burned Harrisburg on April 17 and continued marching east. Houston's army, arriving at Buffalo Bayou opposite Harrisburg on April 18, found the town in ruins, but did not know the whereabouts of the Mexican army. That day, Texan scouts led by Erastus "Deaf" Smith captured thee Mexicans, including Capt. Miguel Bachiller, a courier, and a guide in this vicinity. The prisoners and their dispatches revealed the location, size, and plans of the Mexican army. With this vital intelligence, Houston intercepted Santa Anna's March on april 20 and defeated his division with a surprise attack on April 21 at the San Jacinto River. The Battle of San Jacinto ended the Texas Revolution and secured the independent Republic of Texas. Sponsored by the Bellaire Historical Society |
Harrisburg, Old
| | |
| --- | --- |
| Marker Title: | Old Harrisburg |
| Address: | 8100 block of Lawndale at Frio |
| City: | Houston |
| County: | Harris |
| Year Marker Erected: | 1965 |
| Designations: | na |
| Marker Location: | Frost Bank |
| Marker Text: | Early Texas port and trading post. Site of state's first steam saw, grist mills and railroad terminal. Town founded, 1826, by John R. Harris, who was first settler in 1823. Became shipping center for early colonies, established when Texas was part of Mexico, with boats carrying cargo to and from Texas ports and points in the United States and Mexico. Became the seat of government of the Republic of Texas, March 22 - April 13, 1836, when David G. Burnet, President of the ad interim government and several of his cabinet resided near here in the home of Mrs. Jane Harris (site marked), widow of town founder. Here President Burnet adopted the flag for the Texas Navy. In 1835, local resident, Mrs. Sarah Dodson, had made here the first tri-color lone star flag. General Santa Anna attacked the town with 750 Mexican soldiers on April 16 attempting to capture Burnet and his cabinet. The whole town was burned. After Texas gained its independence at nearby San Jacinto, the town was rebuilt and again thrived. The Buffalo, Bayou, Brazos and Colorado, first railroad in Texas began here in 1852 and by the Civil War made the town a Confederate rail center. Became a part of Houston, by annexation, in 1926. |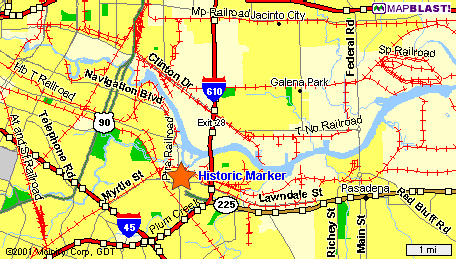 Marker information courtesy Texas Historical Commission's Atlas
and map courtesy Mapblast. Visit Mapblast for driving direction to these site.
Colonel Alexander Horton's fact-based fictional dispatch from this camp gives the flavor of the place and time.
---
Forward to next camp site, back to the previous camp site, go to the complete campsite listings or return to the route map.
8.30.01